Lee Davis 2018 county champion on tie-break
The second closed congress was held at The King's School Worcester on Saturday and Sunday 18th and 19th August. Play was organised in one section with players competing for Worcestershire Individual Championship, and Women's, Junior, Senior, Veteran, Minor and Junior championships of the county. Nineteen players participated on one of the hottest weekends of the summer.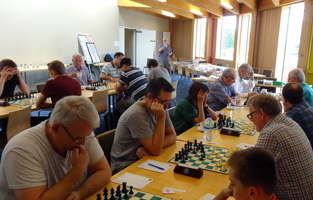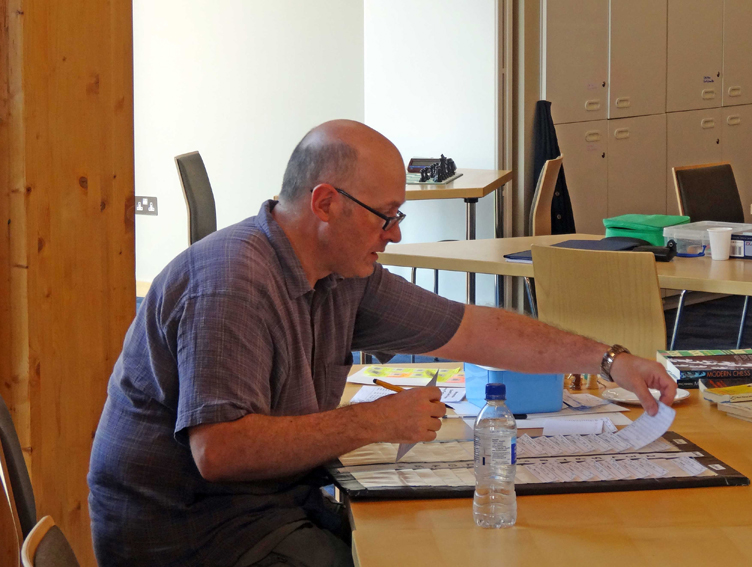 Left: the playing hall.

Right: Andrew Farthing, controller at work
The congress witnessed a fierce contest for the Worcestershire Individual Championship. Two former British Championship contenders Steve Mellor (Worcester) and Lee Davis (Malvern) were the front-runners throughout the competition overshadowing last season's champion and first seed Kevin Hurney (Greenlands, Longbridge), who was out of form.
Mellor and Davis were leading the tournament and paired in the 3rd round. Their game was balanced until the late middle game when Mellor won a pawn, but at the expense of activity. The protagonists exchanged pieces and got to a complicated rook and knight ending where Mellor was on the defensive and short of time. In the skirmish, Mellor had to make his moves within seconds, but accurately defended and even won a further pawn. With too little time to win, Mellor accepted a draw and both tournament leaders had to try for wins in the remaining rounds. In round four, Davis faced Joseph Friar (Kidderminster/ Liverpool University) and Mellor played former county champion Peter Kitson (Worcester). Both games went the full distance with Mellor's game ending with bare kings. In the final round, Davis beat Kitson with a powerful queenside attack and Mellor beat Friar. At the end, with both leaders on 4 points, Davis won on tie-break by half a point.
There was also a tie for the Minor championship:  between Arnold Kirkland (Droitwich) and Rick Simpson (Shirley & Wythall) on 2 points, but Arnold was comfortably ahead on sum of opponents' scores. The association's first Women's Champion went to Julie Wilson (Stourbridge, 1½ points) , Phillip Austin (Worcester, 2½ points) won the prize for the best ungraded player's prize and Finlay Bowcott-Terry (Halesowen, 2½ points) the Junior prize. Junior champion Finlay, who already plays for Worcestershire first team, was building on his success at Solihull where he won the under-13 prize at the Midlands Gigafinal of the Delancey  UK Chess Challenge.
The event was organised by Ray Collett and the tournament controlled by Andrew Farthing. Over £150 was raised for St Richard's Hospice by Andrew's chess book stall. The association is most grateful to the headteacher and governors of The King's School Worcester for hosting the tournament.